FACIAL FEMINIZATION SURGERY
Mature men's faces tend to have less fat than women's as a result of the action of testosterone. Feminizing lipotransfer is surgery that uses a trans woman's own fat to enhance her facial features by making them rounder and more voluptuous.
WHAT IS MTF FAT TRANSFER?
The female face usually has higher fat levels than the male face. Feminizing lipotransfer is a surgery in which fat is extracted from the trans woman herself to be inserted into the face after a purification process. The plastic surgeon uses this fat strategically to increase volume in areas such as the cheekbones and temples, thereby feminizing her entire face.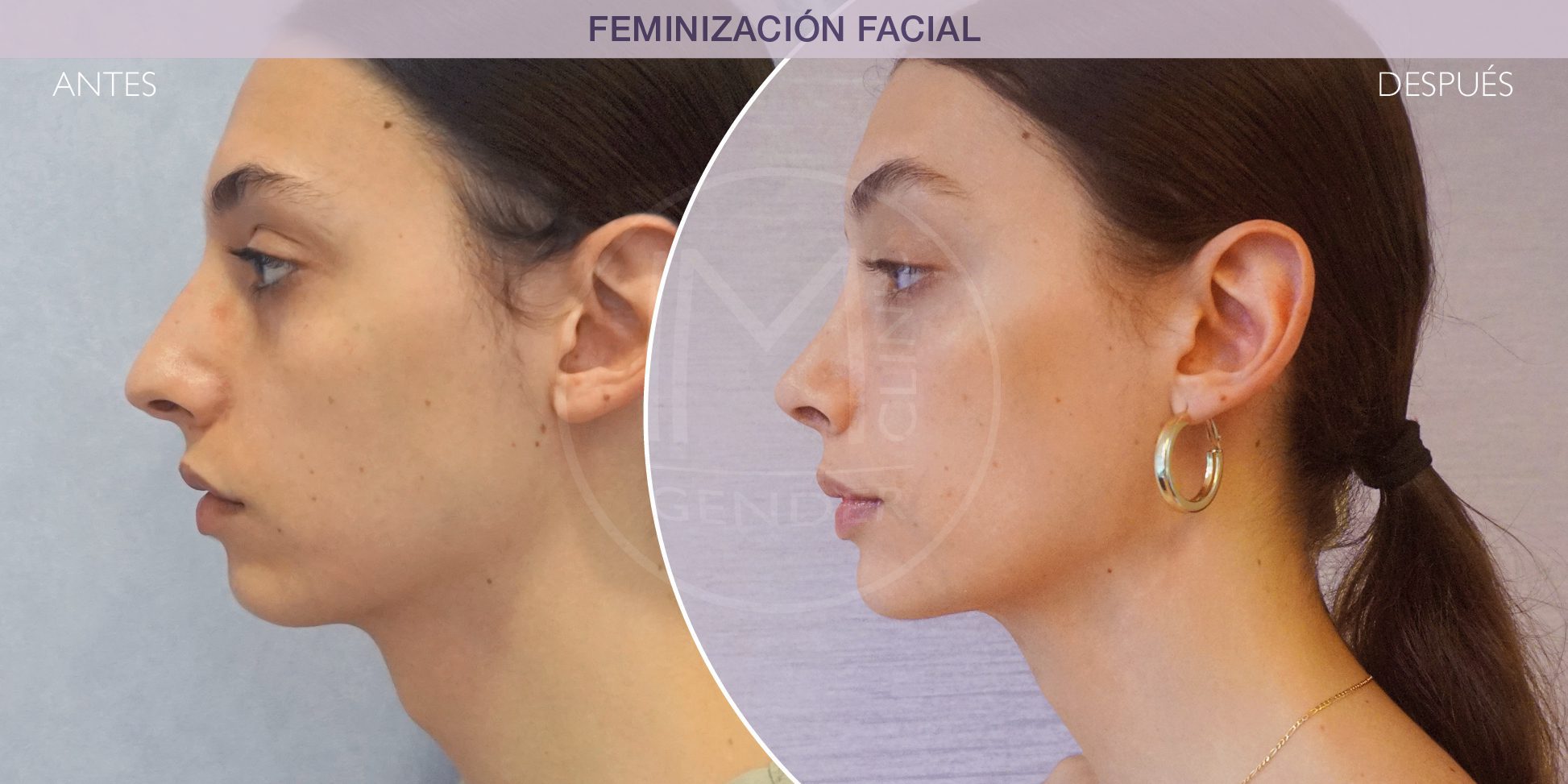 Results facial feminization
Knowing the before and after of facial feminization surgery that the IM GENDER team performs can help you gain a clearer picture of the results you may attain. It helps you to see cases similar to yours and gain an idea of the final result.
Would you like to read more of IM GENDER's experiences and testimonials?
BEFORE A MTF FAT TRANSFER
Before surgery
In women's faces, as in children, the amount of body fat is higher than in men. Increased testosterone during puberty lowers fat levels in men, resulting in generally lower fat levels than in women. This occurs all over the body but is most evident on the face. Thus, from puberty onwards, men's faces appear more angulated and their bones much more visible. They lose fat from their midface while their cheekbones are less rounded.
The operation
Facial feminization by lipotransfer consists of using a trans woman's own fat to augment her facial areas, thereby achieving more harmonious volumes.
Fat is removed by minor liposuction from areas of the body where it accumulates. This removal can furthermore improve a woman's body contours. Once extracted, the fat is purified and prepared for insertion in strategic areas of the face, allowing the plastic surgeon to achieve the desired facial features.
The key areas for attaining successful facial feminization using liposuction are usually in the mid-face area. That is to say, the cheekbones, the area around the lip, the temples and so on. Furthermore, liposuction helps to conceal the more masculine features in your face.
Lipotransfer is a widely used technique. Occasionally, the nanograph technique can also be used, in which more liquefied fat is added. The aim of this technique is to improve the overall amount of fat in your face. This technique consists of a mini-liposculpture to obtain the necessary fat, prepare it and transfer it to achieve the desired facial feminization.
The surgery usually lasts between one or two hours and is performed on an outpatient basis, so no hospital admission is required.
Recovery
If undertaken by itself, recovery from this surgery is immediate and painless. As it is an outpatient procedure, you will usually return home the same day of surgery. You can return to your normal life quickly, but be aware that liposuction may cause some bruising on your face. This will disappear without leaving a mark if you follow your surgeon's advice.
THE RESULTS OF MTF FAT TRANSFER
The results
The results can be seen immediately. You can see how your facial volumes are now more feminine and voluptuous.
TIPS AFTER MTF FAT TRANSFER

RELATIVE REST
Avoid strenuous effort for the first few days. Avoid lifting weights and squat down quickly by lowering your head before your body.

CARING THE AREA OPERATED UPON
Avoid rubbing or exerting pressure on the areas. Also use effective solar protection. Keep your head elevated when you rest or when sleeping.

POST-OPERATIVE VISITS
It is very important you do not miss any visits after your surgery so that the IM GENDER medical team can evaluate your progress.
At IM GENDER we have been specialising in the care of transgender people for more than 20 years. Two decades of experience, professionalism, research and training endorse our medical team.
Do you need more information about IM GENDER's Gender Unit? Would you like to know the price of a MTF fat transfer?