BODY FEMINISATION SURGERY
The female body contour has different proportions to the male body contour because fat accumulates in different ways and in different areas. MTF liposuction allows you to reshape your silhouette, giving you more harmonious, natural proportions.
Liposuction or liposculpture is the name given to the technique that enables the removal of fat accumulated in specific areas of the body. High Definition HD liposculpture is the most advanced technique which, as well as eliminating fat accumulation, allows the entire body contour to be comprehensively remodelled and redefined. This achieves a harmonious, slender, stylised silhouette in women, and a more muscular, defined profile in men.
MTF liposuction allows the removal of accumulated fat deposits in specific areas such as the double chin, arms, chest, abdomen, hips, calves, ankles and more. However, the most common areas in trans women are usually the waist and trunk, while trans men most often request removal at the hips and belly.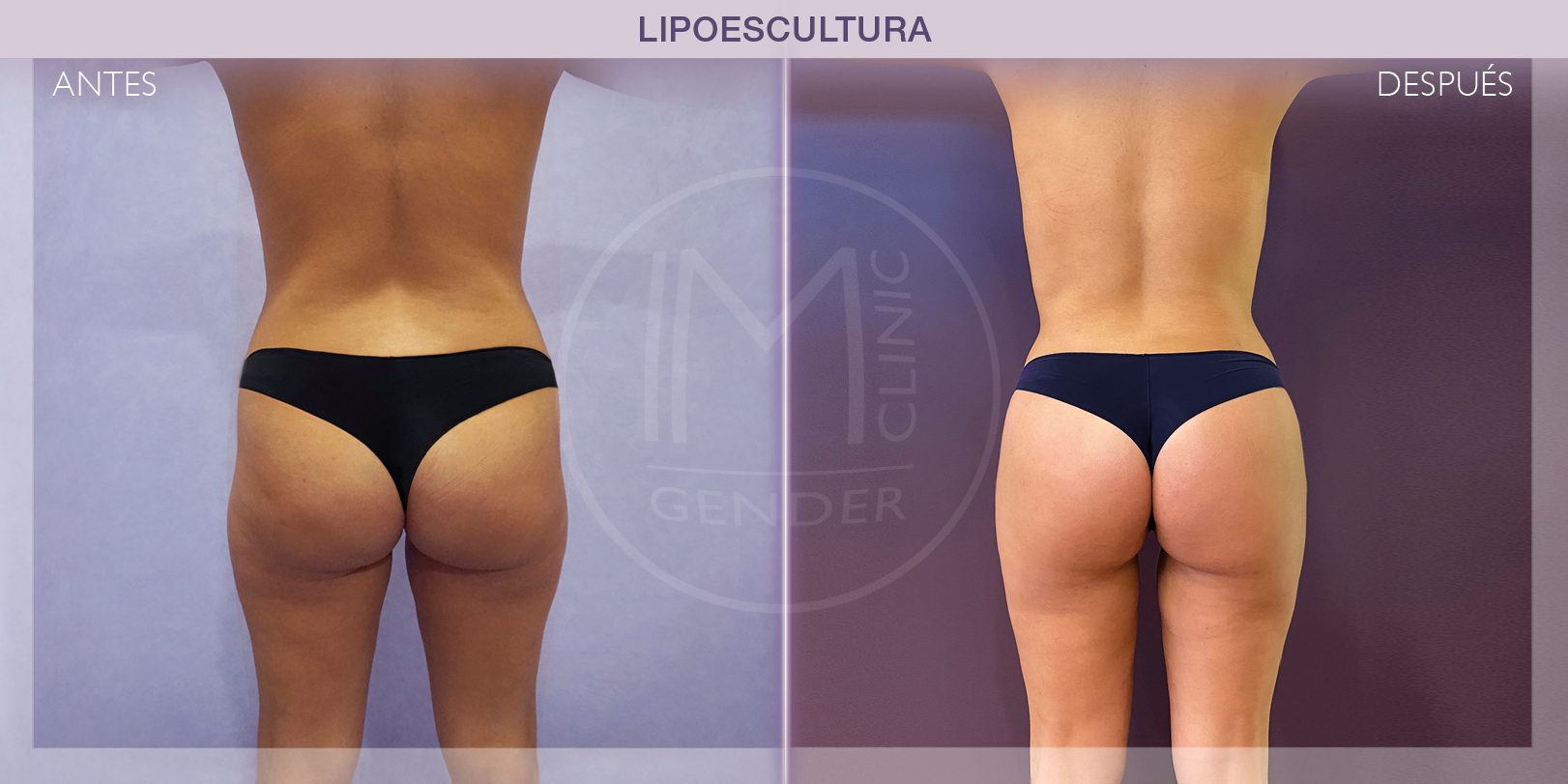 Knowing the before and after of Liposuction HD that the IM GENDER team performs can help you gain a clearer picture of the results you may attain. It helps you to see cases similar to yours and gain an idea of the final result.
Would you like to read more of IM GENDER's experiences and testimonials?
Surgery
You will be admitted on the same day as the liposculpture and over the ensuing hours undergo all necessary monitoring.
Liposculpture surgery usually lasts 1–4 hours, depending on the extent of the area to be treated. This will also be a decisive factor in choosing the anaesthesia type. It can be local combined with sedatives if the surgery is very minor, or an epidural block or general anaesthesia if the area where liposculpture will be performed is extensive.
You should bear in mind that in liposculpture, people who have firm, elastic skin will enjoy a better final silhouette, whereas if the skin is very flaccid it is advisable to carry out an additional surgical procedure to eliminate excess skin so that it adapts better to the new contour.
Fat accumulates in different places in men and women. For this reason, the 4D liposculpture technique can also be used in trans people, combining the HD liposculpture technique with lipofilling or "fat grafting". This technique consists of redistributing the fat extracted from the areas with excess, to treat it and inject it in other areas to improve the silhouette. So, for example, in trans women it can help to make the hips or buttocks more prominent. And in trans men it can be used to redefine a more muscular appearance.
Recovery
After MTF liposuction you will need to wear an elastic compression garment for 3–4 weeks to help shape your new figure. As soon as possible, your surgeon will advise you to start walking and taking short walks, but always avoiding exertion, at least for the first two weeks.
The results
Three-dimensional liposculpture is an effective, safe technique that will give you a new figure. The results are not seen immediately because of the swelling, but it is a gradual process that lasts between one and two months. However, depending on the extent of the intervention it can last up to six months.
The results of HD liposculpture are permanent if you take care of your diet and exercise. The resulting scars are tiny (just a few millimetres) and become virtually invisible over time.
In the case of weight gain, it usually occurs in a more uniform and harmonious way, respecting your new body shape, without fat accumulating where it was removed.
TIPS AFTER MTF LIPOSUCTION

COMPRESSION GIRDLE
You must wear a compression girdle for the next 3 or 4 weeks after surgery. Wear it 24 hours a day, you are only allowed to take it off to be able to shower.

SHOWERY
Shower accompanied so if when removing the girdle you feel somewhat uncomfortable. The water should not be very hot and dry the wounds with cold air.

Postoperative visits
It is very important that you do not miss any of the visits after your surgery so that the IM GENDER medical team can evaluate your progress.
At IM GENDER we have been specialising in the care of transgender people for more than 20 years. Two decades of experience, professionalism, research and training endorse our medical team.
Do you need more information about IM GENDER's Unit? Do you want to know the price of MTF liposuction?