FEMINIZATION AND MASCULINIZATION BODY SURGERY
An abdominoplasty, dermolipectomy or tummy tuck is the surgical technique used to remove excess skin and fat from the abdomen and to improve the silhouette (especially the waist). This procedure is used to repair the muscles of the abdominal wall (rectus abdominis plication).
A tummy tuck or abdominoplasty is the surgical technique used to remove excess skin and fat from the abdomen and thus improve the silhouette and waistline. An abdominoplasty is especially aimed at men and women who have an accumulation of fat in this area that does not respond to a low-calorie diet or physical exercise.
With abdominoplasty, a more feminine or masculine waistline can be achieved, depending on what is being sought. In addition, abdominal muscles that have "sagged" and give a flabby appearance in the stomach area can be corrected.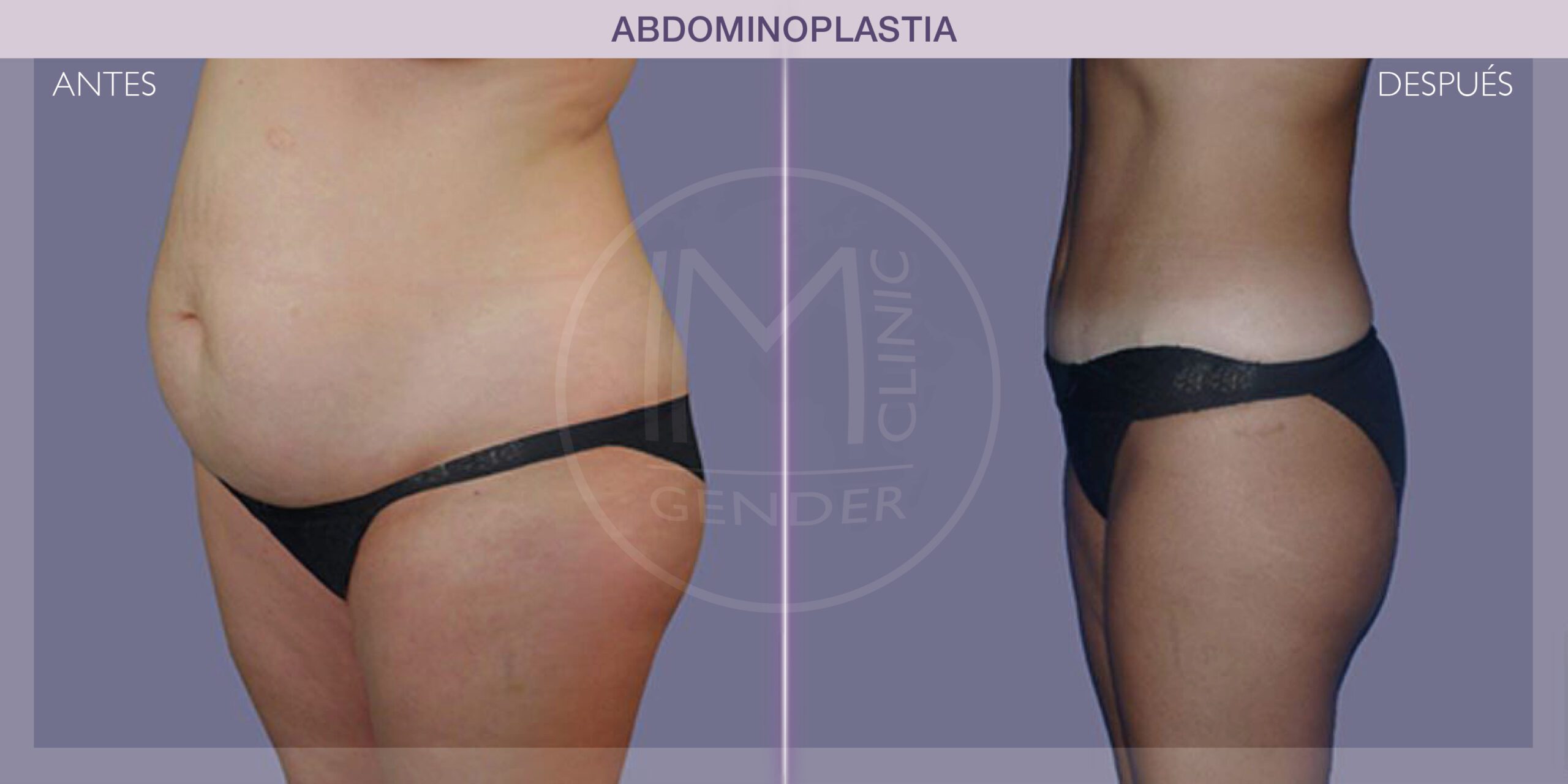 Knowing the before and after of Abadominoplasty that the IM GENDER team performs can help you gain a clearer picture of the results you may attain. It helps you to see cases similar to yours and gain an idea of the final result.
Surgery
The surgeon will assess the quality of your skin and abdominal muscles before choosing the most appropriate technique for you.
Abdominoplasty is a surgery that usually lasts 2–5 hours, depending on the extent of the area to be treated. It requires general anaesthesia. In the case of partial abdominoplasty, the time is considerably reduced to approximately two hours.
To remove the excess skin and return the muscles to their natural position, the surgeon makes an incision in the lower abdomen, which is then concealed by underwear.
Recovery
During the first few days, you may experience some discomfort, which will disappear with the painkillers the surgical team prescribes. To make your recovery even faster, you should follow your surgeon's instructions, such as walking a lot and not staying in the same position for long.
You will be able to return to work after a couple of weeks, although it will depend on the type of activity you do. The scars become imperceptible during the first year after the operation and, in any case, are concealed by underwear.
THE RESULTS OF ABDOMINOPLASTY
The results
With abdominoplasty, whether partial or complete, excellent results are obtained, especially in patients with separated abdominal muscles and/or excess skin. In most cases, the results are long-lasting, as long as the patient follows a balanced diet and exercises regularly.
Abdominoplasty should not be understood as a substitute for a low-calorie diet, as it is not indicated for weight loss

COMPRESSION GIRDLE
You must wear a compression girdle for the next  4 weeks after surgery. The girdle will vary according to the area treated. You must wear it 24 hours a day and you can only take it off to shower.

Sport
During the first weeks they will recommend that you take short walks and avoid gaining weight. Before restarting your sports routine, consult with your doctor when it is appropriate to start and what type of physical activity is the best until your complete recovery.

Postpoerative visits
It is very important that you do not miss any of the visits after your surgery so that the IM GENDER medical team can evaluate your progress.
En IM GENDER llevamos más de 20 años especializados en la atención a las personas trans.  Dos décadas de experiencia, profesionalidad, investigaciónó y formación avalan nuestro equipo médico y humano.
Do you need more information about IM GENDER's Gender Unit? Do you want to know the price of an abdominoplasty?